Shiun Thai Company was founded in 2007, specializing in the field of conveyor and conveying components of food, beverage and packaging industry, providing the industry's overall product program and technical support services.

Shiun Tai Advantages:
● Experienced sales team and strong technical support background,
● Quickly respond to customer's request,
● Customized specifications available,
● High-quality product at the competitive price.
In this rapidly changing market nowadays, Shiun Tai will strive to provide the innovation products and unsurpassed services to our customers.
Our broad range of product line covers the most developing and innovating brand, Movex® for Plastic & Stainless Steel Flat Top Chains, Modular belts, Magnetic Curves, Sprocket, DTS-C…etc. All the products are manufactured in Movex® facilities throughout the world, with guarantee of Engineering Support, Quality & Service with brand new equipment & tools. We also manufacture our own conveyor related components, such as: chain guide profiles, guide rails, support bases, side guide brackets, articulated feet, roller guides…etc.
With factories located in Europe, Taiwan and China, we are able to fulfill the highest demand for a quick-to-market and also one-stop conveyor solution with competitive prices.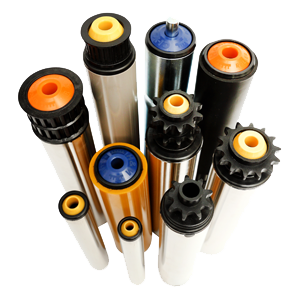 In recent years, the large shopping malls established everywhere, had driven the market trend in the warehousing, logistics and machinery industries. The most widely used in these industries is Rollers, and which has become one of the main product of us too.
We also work closely with the leading brands Asahi and Weston for Power Roller, with the consistently research, development and improvement of technical skill, we have lunched our high-quality Roller series: Universal/ Fixed drive/ Fixed Accumulating/ Power Rollers, and ensures that our customers may get the leading edge features and performance they want, at a price they can afford.